Selecting deployment output
After you have configured the data generation project, you can use the Data Population Wizard to manage the data population script. To open the Data Population Wizard, click
in the upper part of the data generation project.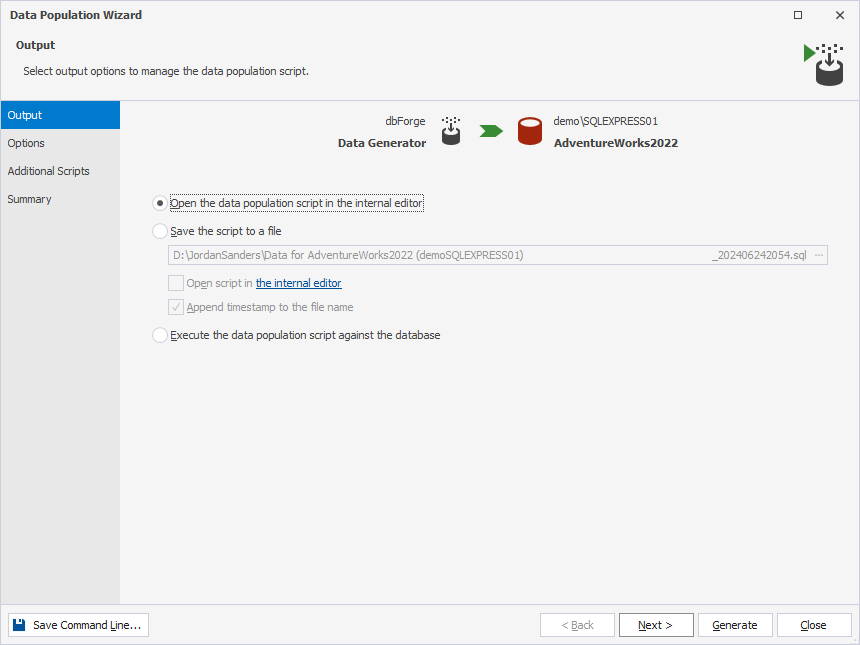 There are the following possible steps in the wizard:
Open the data population script in the internal editor
If this option is selected, the script for data population will be opened in the internal editor of the Data Generator tool. You will be able to make changes to it if necessary and then execute it by clicking the Execute button on the toolbar menu.
Note:

You can select SQL editor to open your script with. Click the internal editor link to open the Options window. In the Data Generation section click Population and select the SQL editor you want.
Save the script to a file
If you can save the script locally on your PC, select this option and specify a path to a folder you want to save the script to. If you want to open the script in the internal editor after saving, click to select the checkbox next to this option.
Execute the data population script against the database
Select this option, if you want to execute the script without reviewing it.
Note:

You can save the data generator project settings as a .bat file for recurring data population scenarios. This will allow you to avoid configuring project again and again. Click Save Command Line to adjust command line file settings.